Koiled Lanyard & 3 Attachment
Save 49%
Every purchase of our lanyard comes complete with a carabiner clip, snap clip and paracord attachments. The other side has a belt loop (but a clip can be used at this side) The product is presented in a silver tin so perfect as a gift idea too
All our lanyards have 33% off automatically added and FREE worldwide delivery
However, add 2 or more at check-out and get a further 25% off!
We're confident we supply the very best products available at any price, and we want you to share our confidence! That's why we back every sale with a 30-day money back guarantee.
 If you don't like the product, if it just doesn't work for you, return it. Within 30 days of receipt, products purchased from us may be returned for any reason. (We don't refund shipping costs unless items are defective. See our returns policy here.)
If you would like to request a refund or exchange, please contact us by email on sales@koiled.co. Briefly explain to us your reason(s) for requesting a return or exchange. We can better serve you if we understand the reasons for your request. When we receive your package, we will credit the card you paid with or send a check for the full purchase price of your product(s), minus any applicable shipping costs. Please allow up to several weeks for package delivery to us, and for us to process your request(s).
Specifications

6" / 150mm
Unstretched Coil

265lb / 120kg
Breaking Strain

43" / 1100mm
Stretched Coil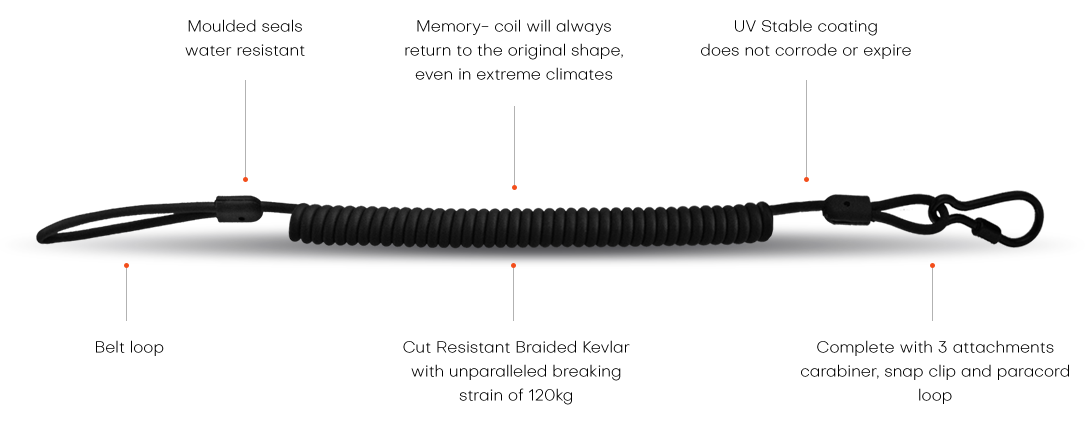 Features
Introducing Koiled, a coiled Kevlar Lanyard with unmatched strength and proven security which has been used for over 30 years by the military, police, prison services and even NASA.
Koiled can be used in a range of activities and outdoor pursuits to secure guns, keys, multi-tools, knives, tools and many more. Breaking Strain of 265lb Use of Kevlar Doesn't Tangle and Returns to original Shape Secures Your items
Got questions?
We've got answers